Doja L. McGlockin, is the Second Life hottie that everyone needs to know about. Not only is she one of the baddest Instagram girls (real or Fake) but she's putting on for the culture in the 3D world. Many people don't know, but similar to The Sims, there is a virtual world called Second Life. In SL, people are able to live out their real world fantasies in a world where they can be anybody or anything…maybe even a dog, if you wanted to.
Doja is one of the baddest in this virtual 3D world. Keep reading for the tea.
What is Second Life like?
In SL there's a whole world, where you get invited to events like pop up shops, parties etc. Yes, a 3D pop up shop. You can create your own world but there are other worlds you can get to. So it's just like I can have LA here and my other friend can have Atlanta. They can create their own sims. They call them sims. You're not playing by yourself. You're with other people.
You can go bowling, take people on dates or to the strip clubs and parties. Everything you can do in real life you can do in Second Life. If you want to give birth, you can carry a baby. You have people who just want entertainment and they will pay you to be entertainment. You can play a housewife, a stripper, slut, and an escort. It doesn't matter. You can do whatever. People on Second Life, who we call BTA, are behind the AVI. So for example, there are girls that are actually men on the game. Or men that are actually girls behind the avi. You can be a dog if you wanted to be. You have the power to do anything you want to do.  It's basically just a whole other dimension. 
What type of hustles do people have?
There are different types of hustles. Just like I have a market for clothes, someone else has a market for skins, eyes, eyebrows, and other stuff. That's how we make our money. You can do like I do and create and play or just play. You don't have to do nothing but you have to pay to play. Unless you find you a sugar daddy. And that's possible. It's all types of people that you find everywhere on here.  Different countries, everything.
You can pretty much do whatever you want without somebody judging. People will still judge you but at the end of the day you can always log out. It just gives you a different type of freedom. People need an escape from their everyday life. Life is hard. You don't have to catch an STD. Some People had previous lives of doing certain things and they can't do it anymore. This is an outlet where you can. "Well I can't do this anymore in my life because I have kids, so why not do it on here?"
What are the Second Life Characters like?
Well it's definitely its own dimension. You control your character and you can role play how you want to role play. You can have families. My SL daughter creates hair. We vibe together. You can tell people's vibe once you get to know them and hang around them. There are messy situations. Yes, there's drama. We go through the same obstacles as real designers in real life. Of course, people know that I'm black. So there are issues with that. We still go through the racial thing a bit on SL…even in the 3D world. I've been called the N word plenty of times. You know people also think like, "You can't get into this event because you create urban wear." We just go through the same stuff.
How do you make your money?
I make money designing, clothes, hair, and skin. Just by designing content period. I have a couple of houses in SL. I live in this little modern house right now. We have created our own sim, called Bella Noche.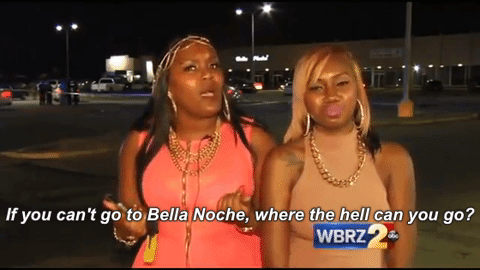 Right now, I'm helping my daughter create her main store for her hair and clothing. I actually have more than one store. They're all inspired from real life stuff.
So what about your kids? How are they?
They call me mom. They come to me for certain things. I have three kids and one on the way. I have 3 girls. @Eatswater is my grandson. His mom is Bunny. (He's also a baby and an adult.)
  I'm their grandmother technically. But we just hang out and do ratchet stuff together.
We have a whole family Sim. They come over and we just hang out. I don't have an SL mother. We raised ourselves. I make sure my SL kids are ok. Some of them blog. They contribute in their own way. You can provide for your kids or you don't have to. And if my kids need a place to go they know they have a place to go.
What happened with you and your baby father Carter when he was with that stripper?
Mmmm we're not together. He was telling her one thing and telling me another. I had a woman to woman talk and I spied on her in world. I was wondering "What is he telling her that's making her act this way?" And she was probably wondering what he was telling me.  Me and Carter actually stopped talking for four months because of another situation or whatever. So I'm just like "How are you going to do this and I have your child?" It's like a soap opera but better. We tried a poly situation but it didn't work out. Right now, I'm supposed to be pregnant.
Do people die?
Nobody ever dies. You'll never die. You're always able to log back in.
How do you get to these parties and different Sims with your friends?
You teleport. You can drive cars, but only way you can drive to another place is if they're connected.
How do people find each other?
SL has it's moments when it dies down and you just bump into these people.
Is creating content time consuming?
We do spend a lot of hours creating, well for me because I have three stores. I create urban aesthetics for our culture. They're not gonna create perm kits to decorate your store or hair salon with. Me and my sister were like "We want stuff that we can decorate with." We made trap boxes and other stuff. We set that tone on Instagram. It's a lot of stuff that we created. We have a store for all of that. Just stuff we'd decorate our houses with.
So you and your family really made strides towards making a niche for black culture in SL?
That's definitely so. We have. You have the people that create, but sometimes they don't have the stuff that you can relate to. Like my daughter makes sure she creates her bundles for our long ponytails to drag the ground if we want to. Just like in real life. If we want to be extra, we can be extra.
Doja's daughter @Punklist (@punktreat) seen here doing hair.
And my sister Le McGloctin, she does all the jewelry. Her and her boyfriend @BJewela create the jewelry we sell. Name chains. It wasn't any of that before we came to SL. They had bamboo earrings but they didn't have your name on it. We had it to where people can actually contact us to customize jewelry. This is the stuff, as black girls, that is ours. That's how we do it. My stores are my clothing store, Cake and Plu$h, which stands for Peace love money and happiness. It's the culture aesthetic store. Le Mcglocklin owns Seven the jewelry store. Her boyfriend, BJewla, also makes jewelry separately. And we both own Len$. 
Le McGlockin with her boyfriend, Bjewla
What are people's perceptions of SL when you tell them about it? Are they informed?
They don't understand it.
What are other activities  that people engage in on SL?
Shopping is big thing. I'm in these events every month. People are lined up. You know how people use to be lined up for Jordan's? Well, this is for places and people are lined up. Like "Oh this person just dropped this." "This guy just dropped these Yeezys and I have to have them." They're not Yeezys but they look like them. It's easy to buy sneakers on SL. They're cheaper…$1. You can have all of the sneakers  you want. We create most of the Gucci inspired stuff. We have a store that does Fendi. It's a market for anything on here.
Right now, I'm trying to do a NYFW event. I really want to try to pull it off but I have to find a venue to host it. I want to charge people to get in. That's one of my goals to pull that off. You have real life brands using 3D characters to model their clothing.
This stuff in SL helps with real life causes. Every year they have this thing called "Hair Fair". That money goes to the cause of Childhood cancer to create wigs for the children. They donate that money. It not only helps people in SL but also people in real life too.
What's one thing that you and your friends do?
I have other friends. We go trolling together. We call it trolling when we go bother other people. Shopping, decorating… We have dancing animations and all. Like if we want to go to the club, we can go to the club. It's no driving to the places but more so teleporting.
Like I'll go see my friend Yala at the strip club. She strips. I'll go to troll or just to hang out. That's how we support each other too. Like I'll go tip all the dancers. Like they're working too. I'll go tip the dancers 1000 linden dollars which is only like $5 in the real world.
@Nasty.cassie , Doja's daughter is a stripper.
Do they get that money?
Yes, I guess they only get a percentage because the club owner gets a percentage too. They even have a weedman and your avatar gets high. There are animations for that. They even have pregnancy tests. If you're trying for a baby, you have to keep trying. Like when I was giving birth I had a midwife and all of that. We breast feed. You can either have a baby or a zoobie. You can buy the baby, but you don't have to open it until you're ready and you give birth. You have Toodeloos.
Are there many families like yours on SL?
Don't get me wrong, there are family beefs, not with mine but others. There are a lot of popular families on SL, one is mine. 
This might as well be Empire. Wow.
People get exposed. Nobody likes that part. Just how somebody could leak their nudes in real life, they do it in real life too. It has its negatives and positives. But we're big on loyalty and family business. The goal is to teach about getting into events, creating stores and more. Everybody eats. We help each other because we're family.
Whew Chile. That was lesson about the complexity of the 3D world. If you're interested, Follow Doja on Instagram and on Second Life. She's actually on a hiatus for right now but she'll be back soon! If you're looking for an outlet to be someone else, this is the place to do it. Check it out! 
Founder of Naveszn.com - I'm a FL native, a Howard and Columbia grad and a creator of many things. As a polymath, I do so much. I care about so many things. Naveszn.com was the perfect tool to utilize my gifts and my love for highlighting the talents and stories of black people and culture.