Another Black man. This time he wasn't killed buying skittles and juice. He wasn't playing in a park. He wasn't preaching a sermon this time. Nope, he was jogging. Yes, jogging. His was name was Ahmaud Arbery.
Per Runwithmaud.com
"Ahmaud Arbery, a fit athlete, was out jogging near his home on a Sunday afternoon in Brunswick, Georgia on February 23, 2020, when two white supremacists saw him, got their guns, got in a truck, chased him down, pulled up next to him, shot him at least two times, and killed him right there on the spot. Ahmaud was unarmed, broke no laws, and did nothing wrong. He was only 25 years old when he died.
The attackers were Gregory McMichael, a former police officer and retired investigator for the DA's office, and his son Travis. When Gregory saw Ahmaud running in his neighborhood, Satilla Shores, a predominately white community, he and his son immediately armed themselves with a shotgun and a 357 magnum, hopped into their pickup truck, chased him down and shot him."
And course, they see no problem with what happened with no charges filed. But this comes as no surprise with Georgia's dark history as a frontrunner of the Confederate South. At this point, what is there to do? Well a lot. It's time to get united on all fronts. Ahmaud was killed in February and many of us, including me, are just now hearing about it. We need media outlets that will be on front of Everything Black; from successes to tragedies. We need to join organizations like Center For Popular Democracy or Organize Florida (If that's where you reside) or any other organization that finds themselves on the battle grounds of events like this.
You ever think, "How many other cases have happened since that time and we don't know about them?" Countless. The prison industrial complex is still working like an oiled machine. Sex trafficking of Black women has not stopped or been brought up again. Black people dying due to the biased and downright racist health care system is still happening.
We are not the same was everybody else. Ahmaud was a 25 year old black man going for a jog something your average white American can do. Time and time again we say, "It could've been me" or "This hits home." Of course it does. But this machine never stops. Simply posting on social media won't cut it anymore. It's time to get our feet and hands muddy.
It can be scary because fighting for the rights of our people is liable to get us killed. We see what happened to The Panthers or even the activists in Ferguson. But clearly jogging, going to church, driving your car, playing your music loud, going into your own house….simply living puts you in harms way as well. Therefore, there is nothing to lose. We often say their names, wear them on shirts but forget about them when things quiet down. It's time to get like the Angela Davis's, Bobby Seales, Martin Luther Kings, Elaine Browns, Sister Souljahs, KRS 1s, Akili Ron Andersons…everybody who stood up in whatever their craft was to promote Black Liberation, Justice, Pride and Freedom. We can't be scared anymore. It's time to educate ourselves on what was done in the past to unite, what worked, what didn't and how we can adapt and work towards the future.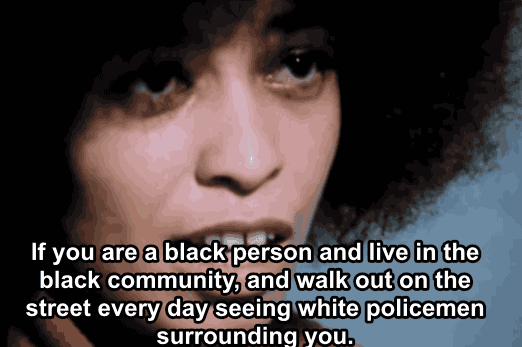 It's time to be tactful. Social media is only one leg of the process that many of us stop at. Reposts matter, but go a step further. Join a local organization that helps towards the cause. Get involved in your community and see what the needs are. Register people to vote and make sure that we are all doing our best to show up. Join local councils. Go to school for something that will change an industry. Start a community garden. Start mentoring children in the failing schools in your neighborhood. Whatever your talent is, it can be used create change for the Black community. Romans 12:6 says "We have different gifts, according to the grace given to each of us. If your gift is prophesying, then prophesy in accordance with your faith;" Something can be done. In the mean and between time, go text, call and sign the petition for Ahmaud found here.
PLEASE STOP SPREADING THE FOOTAGE OF HIS MURDER. IF YOU SEE IT, REPORT IT. HE DESERVES MORE RESPECT. US AS BLACK PEOPLE DON'T DESERVE TO BE FURTHER DESENSITIZED TO DEAD BLACK BODIES. NO MORE STRANGE FRUIT. LET'S REMEMBER HIS SMILE.
Founder of Naveszn.com - I'm a FL native, a Howard and Columbia grad and a creator of many things. As a polymath, I do so much. I care about so many things. Naveszn.com was the perfect tool to utilize my gifts and my love for highlighting the talents and stories of black people and culture.